Performance Management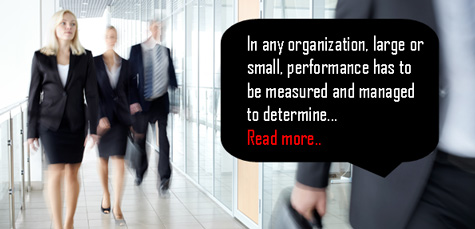 In any organization, large or small, performance has to be measured and managed to determine achievement. The operations manager reducing cost in the supply chain; the sales executive who exceeds sales expectations; or the marketer who delivers against deadlines and time commitments are examples of positive results with performance management. Companies struggle to clearly define goals and link them strategically to specific objectives. A complete program should include described roles and responsibilities, performance metrics, attainable activity, and feedback mechanisms.
Optimizing Human Capital
Why is it so important to look at the work force as both people and an asset to the organization? Assets are described as a value state and can degrade or improve depending on changes in circumstance. Employees are no different. An employee who has poor morale and is undertrained will become a burden to the business, whereas a well educated and empowered employee can drive future growth. Employees are people too. They have needs, want to grow and contribute, and be recognized for their value. Measuring their worth and work is a constant challenge for business managers and owners. Optimizing this vital asset is crucial if the business intends to grow and create value. Supporting human capital growth leads to improved performance and execution of initiatives.  The process starts with reviewing the "status quo" and creating a set of directives for change. Take the guesswork out of the equation by setting up an appointment to obtain the help you require.