Human Resources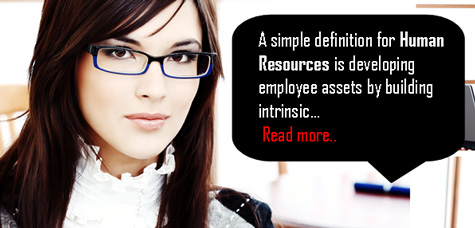 A simple definition for Human Resources is developing employee assets by building intrinsic value. It is a rather cold way of describing people within an organization, but as a function of the organization personnel have to be quantified. Management of a company's work force should rely on a documented process that includes mapping, measuring, and controlling change. Ethical conduct, benefits, morale, and contracts also play a critical role. Growth and additional value can be generated by a well orchestrated strategy implementing necessary changes and optimizing resources.
Internal Process and Procedure
Every business starts out by making assumptions about business development, needed resources, core capabilities, and infrastructure. Unfortunately internal process and procedures are relegated to a later phase of growth or built ad hoc in response to impending threats or pain. Successful start-ups or turnarounds acknowledge this shortcoming and document their business as they grow, not in response to it.  The key is management and having accountability.
Developing employees has to take into consideration various influences including demographics, diversity, skills and qualifications, flexibility, organizational structure, and communication. Employees profit by understanding and acting upon well mapped procedures that are measurable and have set parameters. Small businesses commonly struggle with developing these practices and often lose effectiveness. They end up wasting time and resources to achieve short-term goals. Business managers and owners have to question the impact of "HR" practices on their business and develop ways to improve results. One way to do so is through a diagnostic approach to evaluate the workforce value.
Legal Vehicles
By nature contracts or agreements act as a platform to structure successful relationships internally and externally. Contracts can act as a legal shield and help to define joint ventures, partnerships, and alliances. They can be used to define organizational relationships as is the case with employees or as  part of manuals. Clearly defined terms and conditions can create a positive environment building loyalty and a strong culture. Small businesses traditionally attempt to "get by" with boiler plate agreements or create questionable arrangements that are not reviewed by counsel or may violate business ethics. Performing due diligence up front can save money in the future by avoid litigation or lawsuits. Take the time to evaluate your current contract management system or set up an appointment for us to help.
Strategic Benefits
The adage, "you get what you pay for," is a truism that directly applies to the value of benefits for a work force. Understanding and managing benefit packages can make or break morale, influence culture, and change customer experience. As an example, building a company with "part-timers" is a simple strategy to avoid expense and at face value holds merit. Sadly, this same concept will often encourage employee turnover, hurt morale, and create additional stress on the sales process. As part of business planning, effective communication and a described growth strategy can soften or eliminate the negative effects of poor benefits packages. Set up an appointment with us to review your options.
Culture and Morale
The Merriam-Webster dictionary defines morale as "the feeling of enthusiasm and loyalty that a person or group has about a task or job." Small businesses in particular can be greatly influenced by change in morale because of their "family-like" atmosphere and multiple function positions. One manager or employee can create discord in a large portion of the overall business. One of the ways to disrupt this possibility is to foster a strong culture and build ethical business practices on loyalty not fear. Small businesses run on passion and hope when they start out and this can become contentious during growth. Instituting policy-based activity and encouraging employee empowerment help to overcome fear of reprisals or reprimands. Business owners and managers have to constantly appraise repercussions of their decisions and make positive change. Using our 7 step method™ can help to develop a realistic way to document opportunities and judge their success.