It's now considered the "Information Age" resplendent with an ever growing array of choices, mediums, aggregators, feeds, and resources to fuel potential need for information. Data management has become one of the critical drivers in small business and enterprise alike. Without fully understanding the value associated with available data, small business owners can mistakenly fear and avoid valuable tools for success. The need for useful marketing knowledge directly affects the balance between personal data privacy and educated decisions. As an individual or company, "knowing" can be a necessary evil or value depending on point of view.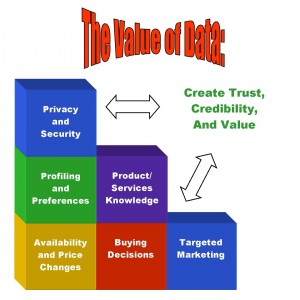 Is Big Brother Watching?
Advent of web-based communication structures has created a way for anyone, from the government down to a small marketing agency, to gather and use data. Buying patterns, preferences, need, access to services, and product education are just a few of the objectives for interested parties to evaluate. Individuals can access "free" information in the form of downloads, whitepapers, blogs, feeds and newsletters but there is a cost. The cost is publishing of business and/or personal information. The government is passing laws and statues in response to both real and perceived fears concerning availability of data. The basic question is, "Who is responsible for management and control?" The answer lies in your personal behavior.
Behavior and Control
Surfing the Internet, looking up information in a reference, viewing videos, downloading white papers, posting to social media, etc. are all ways that individuals contribute to public profiling and give access to potential proprietary information. In each case, the immediate need outweighs the risk and data is created. How many times do you post to social media sites, upload/download pictures, shop for the best price, evaluate a company's reputation, or text message? These activities are becoming mainstream and normal. The real issue is understanding impact of each behavior as it relates to you or your small business. Look to personal habits to evaluate how much risk is inherent and what can or needs to be changed.
Small Business Use
With the growing popularity of social media, shrinking use of print, and thirst for knowledge small business owners have to come to terms with the new Data-Driven Economy (DDME) and how to market effectively. Proliferation of online services create a unique opportunity for educated small business owners to operate like much larger companies. Digital marketing, targeted mailing, direct response, opt-in, RSS feeds, and video are leveling the playing field in the battle of customer acquisition and management. Selling products across the globe is just as common as providing products across the street. In today's marketplace, every small business has an ability to reach a far larger potential audience than ever before. The only obstacle is in how to make it happen.
What To Do
The key is building a critical knowledge base and making decisions based on facts and opportunity rather than fear and reaction. Take stock of your digital assets and protect them by obtaining copyright, use of watermarks, cataloging, and implementation of usage policies. Optimize your social media to focus on targeted audience interests rather than self promotion. Create methods for potential customers to partake of your targeted information stream through blogging, RSS feeds, newsletters, and publicity. Link your collateral portfolio and web experience to provide an integrated message platform for your products or services. Above all else, don't fear the flow of information, just manage it.