Have you ever been at a networking function talking to someone and felt uncomfortable and unsure if you were saying the right thing? Were you afraid you might screw up and alienate the other person and destroy any change of doing business together? If you have, rest assured "don't worry, be happy". Let's discuss the reason why being careful about what is said can destroy any success in the networking environment.
Too Much Wasted Time?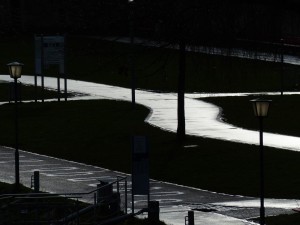 The goal in business networking is to establish and nurture long-term business relationships through a process of follow-up, trust building, and accountability developed over time. Just like any relationship, being honest and interactive plays a critical role in that development.
Upon meeting someone for the first time, everyone wants to make a good impression. People often exhibit their "best face" to ensure success. This can often cause problems that are unexpected and long-lasting. One problem is that trying to appear as something we are not will create fear of discovery and distraction making the situation uncomfortable, and frankly a waste of time. Other people sense it unconsciously and tend to push away. Not the desired result we can assume, right?
Most people worry that "just being who you are" will not be enough and others won't accept them. Contrary to that belief I submit, if we don't, sooner or later the "real you" will come out and then everyone will have to deal with the consequences – mostly negative or damage control related. This leads to feelings of distrust and potential separation.
A Good Example
You finally meet the person of your dreams and lay it on thick. Talking about personal triumphs, embellishing your storied past, and perhaps exaggerating a little bit or glossing over the negatives. Later the truth comes out in conversation or worse, by accident. It sets the stage for difficult times and a whole bunch of mumbled answers and apologizing. In my opinion, it is better to risk being true to who you are up front, telling people exactly how you feel. In general people are forgiving and want to forgive. Apologizing for something you said that is potentially embarrassing is a heck of a lot easier than to back pedal when lies are uncovered and you have to explain why. Say goodbye to your credibility.
Chill Out and Relax
A bit of advice for your next networking activity- relax, be genuine and honest. You will have more fun and people will be open to speaking with you. A specific agenda to get to know others will make you more productive and the event more rewarding. People like passion and honesty and develop trust rapidly leading to what we all desire – new business opportunity.
Enthusiastic passion and authenticity are great building blocks for networking. If you love what you do and show it – honestly, others will congregate around you. You will be happier and appear happier. As we all know, happy inside will lead to expression of happiness outside and others can see it – a big smile is attractive and inviting.
To sum it up, just be yourself. You will be more positive, have better results and will find yourself looking forward to the next event and following up with new acquaintances. In the fullness of time, the measurable difference will appear in many ways besides a boost to your bottom line. Perhaps you might even gain more friendships and the referrals everyone talks about. It is a proven fact that friends really do refer friends.
If you want to discuss better ways of communicating and develop a simple networking strategy, give me a call. If you don't then watch out for sharp knives…