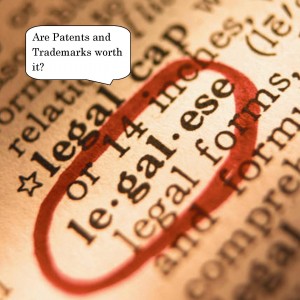 In the last two weeks I have run up against issues with intellectual property concerns over trademarks, patent policy, and copyright. In small business, the rank and file feel the "protection" process is necessary but not effective. Here are three examples of what I mean:
Don't tell, It's my patent
A software engineer is burning up social media bragging about his patent and how he kept it secret until late into production. Throughout his discourse he encouraged readers to avoid "letting the cat out of the bag" and used this as the premise for his success. Basically secrecy is necessary to combat fear of discovery. Unfortunately this strategy is costly and warrants review because shared knowledge enables rapid adoption of the idea, potential avoidance of issues, and ability to fully realize potential.
Copyright doesn't really work
An avid photographer had become cynical about the value of copyright and how the process is wrought with uselessness. The fact that copyright of photography is relatively easy and cheap is not a compelling reason to support it. Factually the real issue is in defense of copyright not in obtaining it or the process. The best way to protect photography is not to publish it but that defeats the true purpose of photography -sharing with others.
Publish my way
An artist is maniacally focused on protecting pictures of his paintings and demands that any reproduction or distribution be carefully screened and only produced at low resolution. He neglects to realize that his buyers want to see realism, clarity, and detail not simple subject matter. There are other ways to tag graphics to stop private use or piracy including watermarks, layered text, and manipulation. The best way to stop misuse is either to not publish or create brand awareness through marketing and sales efforts.
The basic failing in each scenario
The foundational issue with each example is how intellectual property is managed. All three people are focused on the process of protection not on the end user. The key to successful management has to start with sales and marketing. Strong sales and marketing will create brand recognition and intrinsic protection because the biggest problem with intellectual property defense is valuing the result or lack thereof. In many cases defense is mitigated by availability of  financial resources. The one who has the deepest pocket wins. Kind of a tough situation to decide whether to defend or walk away. The answer lies in gathering knowledge of the process, understanding the benefit of a intellectual property strategy, and a thorough risk analysis. In essence, the end result must justify the means.