How do you define quality in your business? Is it through measured revenues, customer feedback, market share, or process controls? All of these indicators can provide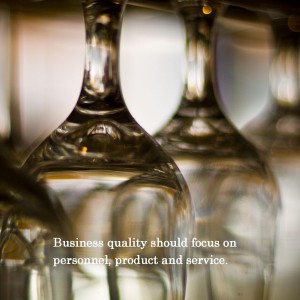 insight into business quality but none of them address it holistically. As children we are taught results represent quality not  process. For instance, a clean bedroom is indicative of hard work, organization, and perseverance but doesn't touch on emotional or psychological value. The concept of quality is intrinsic but hard to place value on.
Types of Quality in Business
There are three primary areas of quality: personnel, product, and service. Each one can be addressed individually but must report back to the whole. Quality in the work force develops from human resource practices, company goals and culture, and individual expectations. Product quality is derived from a rigorous testing program within all aspects of the business. Service quality is demonstrated by customer feedback, loyalty, and referral. In each case quality links business practices to results.
Human Capital
Human capital is employee valuation by the company encompassing the combined knowledge, skill sets, and experience of its workforce. Employees can make or break a company and require management and oversight. Quality develops from a platform built on training, evaluation, feedback, empowerment, recognition, and reward. By nature, most employees want to exceed at their position but need direction, knowledge, and stability. Even in a sole proprietorship with one "employee" this platform can be developed with outside vendors, business networking, and alliances. No company should ignore the pursuit of quality in its work force.
Product Management
Many small businesses are built on introduction of a particular devised product or product mix to a target market. Initial growth is focused on market acceptance and market share rather than developing controls and optimization. Quality is usually measured after competition is identified as a threat and adjusted pricing, manufacturing, or marketing efforts can't address the problem. Small businesses may fail or have to restructure at this point. Creating proper quality controls out of the gate can mitigate the negative results of introducing reflective change later in the product management process. Small businesses in particular have to link business strategy to quality.
Service, Service, Service
Customer service is an overused term in business designed to be a catchall phrase when dealing with various sales, marketing, and operational processes. Businesses need to pay attention to internal customers as well as external. In small business, communication, processes, and knowledge transfer are ways to demonstrate quality but must be measured and changed proactively. Quality of service results in easier processes, faster adaptation to market conditions, and lower infrastructure costs.
Executing Quality
Now that you have some focus areas to improve, what next? Use my Seven Step Method as a guide and follow these simply steps. Step 1, identify quality in each area of your business. Then, set up a measurement system. List potential changes and vet them against a group of advisers, core  customers, and employees to make sure they will add value. Finally, execute one small change and follow it through the process. Once the kinks are worked out, go for the gold!